Hotel Ambassador - Zlata Husa Prague
. Book your Prague luxury hotel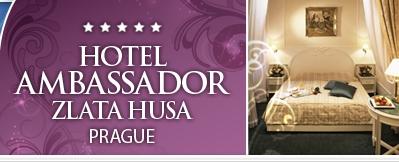 Home > Hotel
The Ambassador-Zlata Husa was built in 1920 In art Nouveau style.
The name of this exclusive property comes from the daughter of the Rich widow who owned the house. The woman desperately tried to marry off her unattractive daughter, but despite her wealth, no one would take her daughters hand in marriage. The town people called the girl the Golden Goose ?Zlata Husa? , thus the name of the hotel.

In 1964 both hotels were joined and the restaurant and conference rooms underwent a major remodel. Through out this change, the hotel maintained all its original character and is suited better than ever to serve guests and business people with top of the line facilities.

Dining choices consist of lobby bar, summer terrace and two unique restaurants that serve international specialties and local traditional plates.

The hotel has a 24 hour VIP Club- casino and the Gold finger Nightclub.

They also offer a unique conference centre that accommodates up to 500 people. Perfect for organizing banquets, meetings and special events. Combined with an additional 8 meeting rooms, there is a full capacity for 1500 persons.

Hotel provides limousine service, secretary service, dry cleaning and laundry service, 24 hour room service, hairdresser, foreign exchange and boutique.
Give us your Feedback
Hotel Ambassador - Zlata Husa, Vaclavske namesti 5-7 - Prague